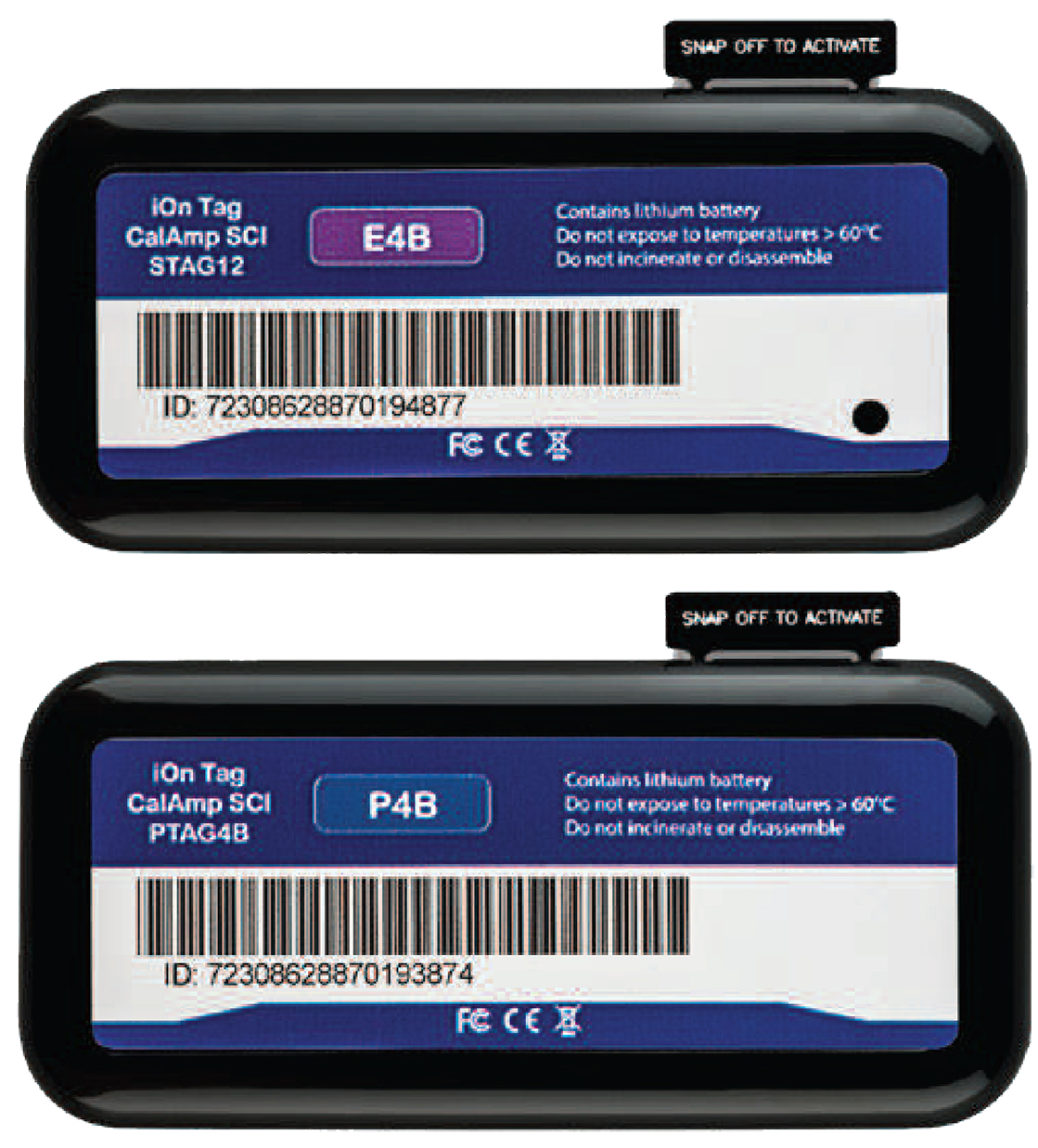 Bluetooth Tags
Capture Location, Temperature, and Humidity with Cost-Effective, Small Footprint Tags
Software & Services
Features
Technical Specs
Related Products
Download PDF
Software & Services
Flexible Application Options
Streamline integration of CalAmp telematics data into your application via API or rely on CalAmp app to manage all of your assets.
Features
Advanced Asset Tracking Technology
Simple, Reliable Asset Tracking
Pair CalAmp Bluetooth tags with rechargeable or wired gateways to ease tracking of location and environmental condition data on your high-value assets.
Quick Installation
For mounting, peel off the backing on the industrial grade double-sided tape on the tag. Or, simply place the tag into the box containing the asset. Line-of-sight visibility is not required but will extend the operating range up to 250 feet. Snap off the tab to activate the tag and initiate reporting.
Durable By Design
IP ratings, shock and vibration resistance, and wide operating temperature support provide the ideal solution for rugged industrial environments.
Intuitive Tracking, Alerts, and Reporting
Tags report to gateways within proximity with no setup required. In the CalAmp app, location, battery level, temperature, and humidity are clearly displayed in the tracking page. Configure helpful geofence or environmental sensor alerts for email or SMS notifications. Input the date range and immediately bring up a comprehensive tag history report, or temperature log report for NIST traceable reporting compliance.
Technical Specs
Communication

Bluetooth

4.2


Requires secure communication with CalAmp gateway.


Up to 250 ft (80 meters) with clear line of sight
Certifications

Industry Certifications

FAA Compliant, FCC, CE, NOM, IFETEL
Power

Battery Type

Proximity (Typical battery life 24 months)

Operating Parameters

Activated upon breaking off tab


Max output power is less than 100mW EIRP
SKUs

PTAG04

Proximity (Typical battery life 24 months)

STAG04HT

Proximity, temperature, humidity


(Battery life 9 months, subject to use case)
Form Factor

Dimensions

1.33" x 2.85" x .19" (33.8 mm x 72 mm x 4.7 mm)
Environmental

Temperature

-20 C to 60° C (operating)


-30 C to 60º C (storage)

Shock and Vibration

Resistant

IP rating

PTAG04: IP67


STAG04HT: IP65
Sensors

Proximity

PTAG04 and STAG04HT

Temperature

STAG04HT


NIST Traceable


Accuracy +/- 0.5C


Min/Max Threshold (configurable)

Humidity

STAG04HT


Accuracy 4% rH (20% to 80% rH)
Supported Applications
CalAmp app
CalAmp Telematics Cloud (CTC)
Command Center Monitoring
Related Products
Download PDF