Fleet management software is an obvious answer to more efficient, effective fleet management, which can yield significant cost savings for companies and organizations. Yet in a recent survey of fleet managers conducted for CalAmp by James Brehm & Associates, fewer than half of respondents reported using a fleet management solution.
If you're in the market for one, you may already realize that not all fleet management solutions are created equal. Any GPS fleet tracking solution allows you to track the location of your vehicles, and the better ones provide real-time location data. But a full, top-notch fleet management solution can also help you enforce company policies and achieve business goals such as reducing crashes, improving utilization, saving on fuel and cutting emissions.
A solution with the following features adds more value and provides an unprecedented level of control over your fleet operations.
A robust menu of customizable alerts and reports
Customizable alerts delivered via email or text message help fleet managers and maintenance managers react in real time when a situation calls for an immediate response.
For example, you can act fast if an ignition is turned on in the middle of the night (which could indicate theft), a driver exceeds the speed limit by a threshold you choose or a vehicle throws an engine fault code that spells trouble. Responding to fault codes promptly can help you avoid much more expensive repairs down the road.
Alerts and on-demand or scheduled reports help you manage by exception so you stay on top of problems that require attention without drowning in data. Reports on driver behavior (including speeding, tailgating, harsh braking, harsh acceleration and idling), fuel usage, geofence breaches, long stops and low or high utilization can reveal problems within your fleet that might otherwise go unnoticed.
Easy-to-use geofences
Fleets use these virtual boundaries to enhance productivity and safety, so look for a fleet management solution that makes them easy to create. Some solutions give you the option of being notified in near real-time of geofence breaches.
By setting geofences around depots, routes, territories, unauthorized locations, customer sites and homes, you can react quickly to theft, limit unauthorized activity, track time and attendance, provide ETAs to customers to improve customer service, and monitor time spent on site.
A user-friendly interface
Once you discover the value an advanced fleet management solution brings, you'll want to leverage its tools and features often, but only if they are easy to use.
A well-designed, intuitive interface offers simple workflows and effortless navigation. As a result, even casual users can quickly figure out how to locate assets on a map, see alerts and notifications, set geofences, use weather and traffic overlays and get the information they need.
CalAmp's newly redesigned fleet management software, offers a streamlined interface with single-click access to vehicle status and driver behavior videos, easy-to-use filters, conspicuous notification icons and more.
Mobile access
The best fleet management systems are cloud based and give you platform access from your phone or tablet so you can manage your assets and alerts from anywhere — your office, your vehicle, your home.
A responsive mobile application lets you transition seamlessly from a laptop or desktop to a mobile device. In iOn, you can even access reports from your phone or tablet.
Fully integrated video telematics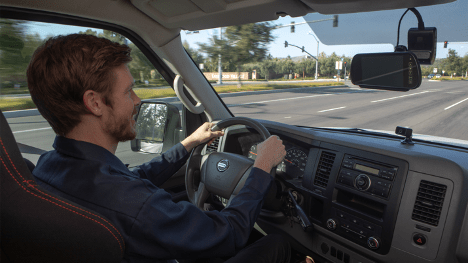 Video telematics lets you see what happened before, during and after an incident. (Credit: CalAmp)
For deeper insight into driver behavior, a truly complete fleet management solution includes video telematics, powered by smart dash cams. Video captured by road-facing and driver-facing cameras add useful context to driving incidents. (CalAmp made its driver-facing dash cam detachable for organizations that can't use one or prefer not to.)
The most useful video telematics solutions are tightly integrated with the vehicle's telematics device and offer a menu of inertial triggers. In the case of CalAmp Vision, the triggers initiate the capture of short video clip that shows what happened in the seconds before, during and after an incident. The clips are conveniently classified by type of event, like speeding or harsh braking. They are readily accessed in the admin portal so there's no need to dig through hours of video to find what you need.
A camera with artificial intelligence (AI), such as CalAmp Vision's, enables vision-based triggers as well. If a driver blows through a stop sign or tailgates, the behavior will initiate a video clip. (Cameras with AI also make in-cab audio alerts possible.)
Video evidence not only adds additional insight into driver behavior, it also helps mitigate potential legal liabilities stemming from crashes and protect your organization from false or fraudulent claims.
Seamless integrations
When your fleet management software can share data with other software applications and vice versa, you gain even more functionality.
A solution that seamlessly integrates with third-party apps via application programming interfaces (APIs), webhooks, data dumps, Web Map Service and other technology gives you to access to fuel card data, dedicated maintenance software, ESRI mapping and other tools, all within your fleet management solution.
Two-way integrations allow other applications your organization uses to ingest data from your fleet management solution.
A preventive maintenance scheduler
Timely preventive maintenance extends vehicle lifecycles, keeps drivers safer and reduces the costs associated with unplanned downtime.
Your fleet management solution should provide a maintenance scheduler that lets you schedule time-based maintenance or, even better, maintenance based on mileage or hours of use. Mileage-based maintenance can help you avoid costly under-maintenance and over-maintenance.
Asset tracking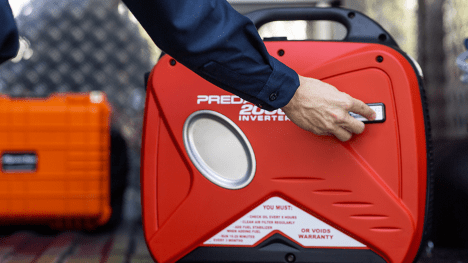 Smart proximity tags can be affixed to just about any portable asset and paired with a vehicle's telematics device. (Credit: CalAmp)
The cherry on top of the best fleet management solutions is asset and cargo tracking.
Attach smart proximity sensors such as CalAmp Tags to assets or cargo and pair those sensors with the vehicle's telematics device. This way, the driver and/or manager will be alerted in real time if the tagged item — a ladder, power tool, heavy equipment attachment, pallet or container — was left behind at a jobsite or left on the truck or trailer.
For dramatically improved operations and fleet performance, a fleet management solution is a must. A solution with advanced functionality gives you more power, providing actionable insights into areas that need improvement and a sharp edge over your competition.
Request a demo to see how CalAmp and CalAmp Vision, CalAmp's award-winning video telematics solution, could benefit your fleet.