The Federal Motor Carrier Safety Administration (FMCSA) has mandated the use of electronic logging devices (ELD) for most commercial vehicle drivers. The aim is to create safer driving conditions for truck drivers and those around them on the road.
However, maintaining compliance isn't the only reason to install these devices. The data they provide can help you lower operational costs, improve asset utilization, and increase productivity across your fleet.
In this article, we'll explain what ELDs are and the information they collect. We'll also look at how these devices can benefit your trucking operations — even if you're exempt from the ELD mandate.
What is an electronic logging device (ELD)?
An electronic logging device (ELD) is hardware that connects to a vehicle's electronic control module (ECM). It records driving time and Hours Of Service (HOS) — the maximum number of hours that commercial vehicle operators can drive.
An ELD automatically records and captures information like:
Date and time
Geographic location
Engine hours and status
Number of miles driven
Driver authentication
Duty status
The information is then transmitted to fleet management software where fleet operators can view real-time locations, review HOS statuses, and more from a central location.
Here's an example of an HOS dashboard: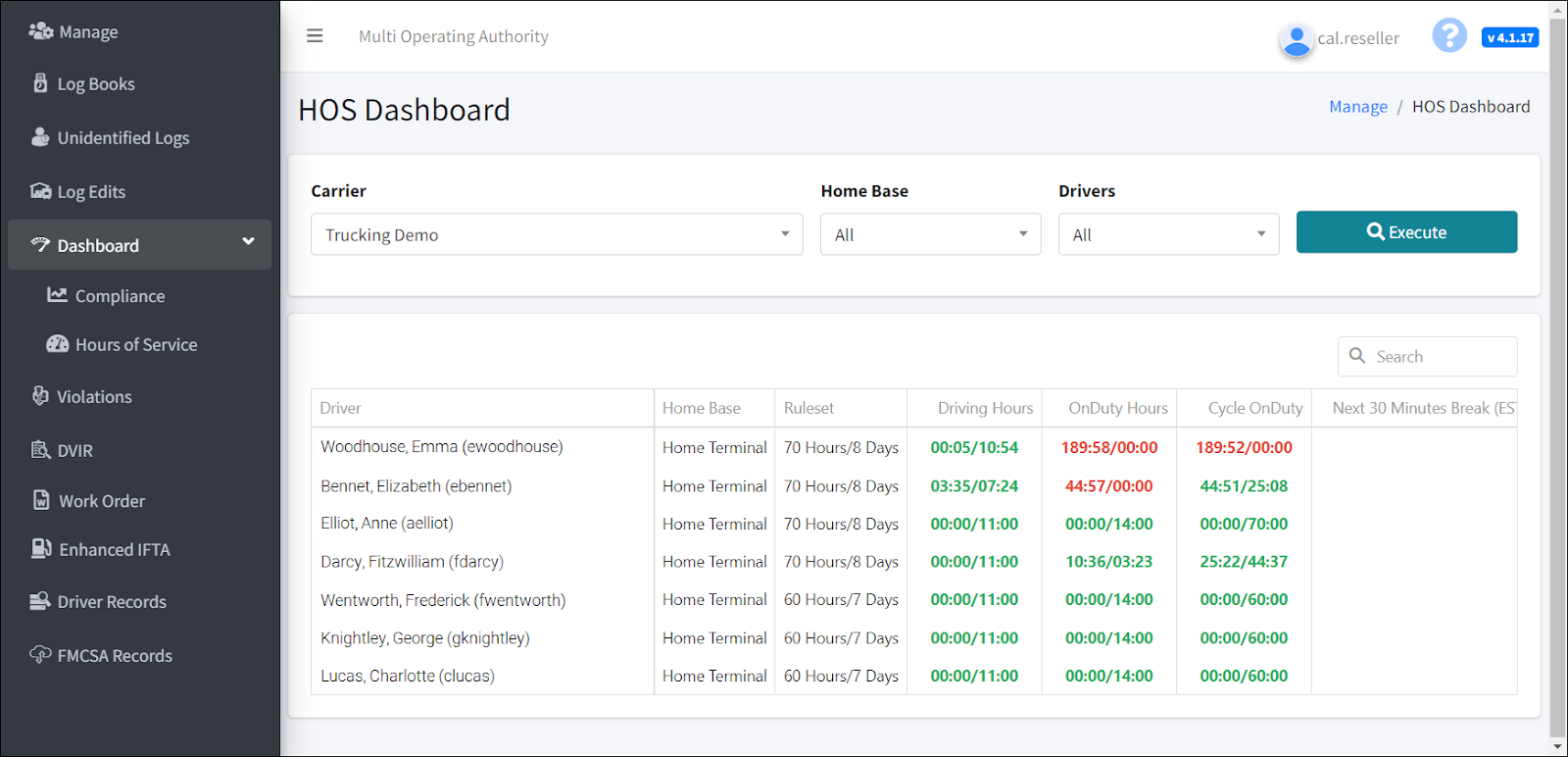 With the dashboard above, fleet managers can monitor HOS statuses for each driver and ensure they're not exceeding the maximum amount of time they can work.
That's not all.
An ELD combined with a trucking telematics solution from CalAmp can also record data like:
Fuel consumption
Engine and trailer diagnostics
Engine fault codes
Driving behavior
Roadside incidents
And much more.
ELDs help fleet managers gain real-time visibility into their operations, allowing them to make decisions that improve fleet safety, reduce operational costs, and more.
What is the ELD mandate?
The ELD mandate, or ELD Final Rule, is a federal law that applies to commercial vehicle operators who are required to maintain records of duty status (RODS) — a driver's log that records details like driving hours and miles driven within a 24-hour period.
ELD devices must be registered and approved by the FMCSA. The law was enacted on December 18, 2017, but extensions were made until December 16, 2019 for older fleets using automatic on-board recording devices (AOBRD).
The mandate also requires that drivers have:
User's manual that describes how to use the ELD
Instruction sheet describing how to transfer data to an official
Instruction sheet describing procedures for ELD malfunctions
Blank RODS that can record a driver's status for at least eight days
Whether the ELD mandate applies to your fleet depends on several factors.
Who does the ELD mandate apply to?
If you operate a commercial motor vehicle (CMV) that meets any of these descriptions, you must comply with the HOS Final Rule and the ELD mandate by extension:
Weighs at least 10,001 pounds
Has a gross combination or vehicle weight rating of at least 10,001 pounds
Is built or used to haul 16 or more passengers (driver included) not for compensation
Is built or used to haul 9 or more passengers (driver included) for compensation
Is transporting hazardous materials in volumes that require hazardous placards
Who is exempt from the ELD mandate?
The ELD mandate applies to most commercial carriers. However, the FMCSA has listed several exceptions which include, but aren't limited to:
Short-haul drivers who only operate within a 150 air-mile radius from their work location
Drivers who conduct driveaway-towaway operations, which means the vehicles they're driving are part of a shipment
CMVs with engines that predate model year 2000
Drivers who keep RODS for 8 days or less every 30-day period
Certain agricultural and farm vehicles
Even if some of your vehicles are exempt, installing ELDs across your fleet can still prove beneficial for your company, as we'll see shortly.
What are the requirements of an ELD for trucks?
According to the FMCSA, there are three requirements that ELDs must meet to comply with the ELD mandate. ELDs must:
Meet all technical requirements
Support multiple data transfer options
Be FMCSA-certified
Operating with non-compliant ELDs can result in your drivers being temporarily put out of service and incur penalties for your company.
Here's a look at each requirement.
Meet all technical requirements
First, there are certain technical specifications that an ELD must meet to comply with the ELD mandate. There are too many to list, but some examples include:
Must sync with the CMV's engine and capture power status, motion status, miles driven, and engine hours
Must be fully functional within one minute from the time the engine is turned on
Must give drivers the option to log on and select their duty status
Must show a driver's RODS so they can see how many hours they've driven
Must offer separate accounts for drivers and administrative users
See the full list here of all the technical requirements that ELDs must meet.
Support multiple data transfer options
If a driver gets stopped at an inspection point, they'll need to transfer their HOS data to an officer to complete a compliance check.
ELDs must support one of two data transfer options:
Wireless web services and email
Thumb or flash drive (USB2.0) and Bluetooth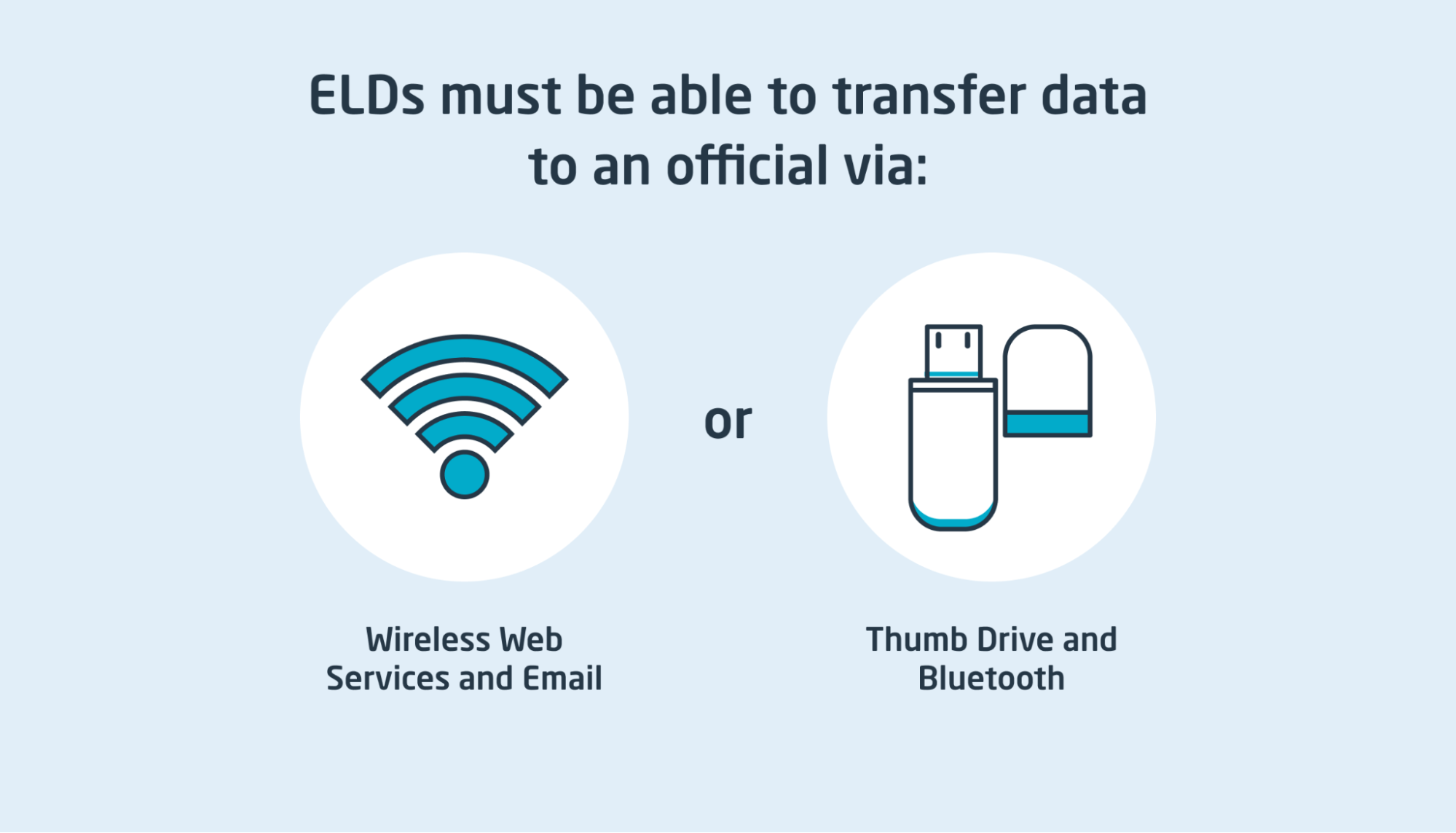 If data transfers aren't working, drivers can still maintain compliance by showing an officer a printout of their duty status. Be sure to provide your drivers with at least 8 days of blank paper logs if their ELD malfunctions.
Be FMCSA-certified
Any ELD you install in your fleet must be certified and approved by the FMCSA.
The full list of FMCSA-certified ELDs includes providers who have self-certified that their devices meet all technical specifications. Each is also registered with the FMCSA.
How an ELD can benefit your trucking operations
The ELD Final Rule mandates the use of logging devices for most CMVs to avoid incurring penalties and fines. But the benefits of ELDs go beyond maintaining compliance.
Here's a look at some of the top benefits of trucking ELDs.
Reduce administrative paperwork
Without ELDs, drivers would have to manually record their HOS in paper logbooks. However, the time spent filling out these records can add up. It also increases the risk of human errors.
ELDs automatically record duty status, reducing the administrative burden for fleet managers and drivers. In fact, the FMCSA estimates that the ELD mandate will save $1 billion annually, with most of the savings stemming from less paperwork.
Improve driver safety
Unsafe driving greatly increases the risk of vehicular accidents. Repeated instances can harm your business' reputation and cost you money.
With an ELD combined with a fleet telematics solution like the CalAmp Application, you can identify instances of bad driving behaviors like:
Speeding
Excessive acceleration
Hard braking
Tailgating
Stop-sign violations
Driver scorecards provide detailed incident reports for each driver:

Use these scorecards to identify risky drivers and enforce safer driving behaviors.
Reduce fuel usage
Excessive idling doesn't just consume more fuel; it also doubles the wear and tear on engines, which costs $2,000 per truck annually for maintenance.
ELDs help you track fuel consumption and monitor idle times across your fleet, so you can establish better driving practices. Examples include encouraging drivers to turn their engines off while loading or unloading to reduce fuel consumption.
Boost asset utilization
Making the most of available assets is challenging for fleets of any size. But with the right ELDs, you can monitor utilization across your fleet and make informed business decisions.
For example, if data shows that a CMV is underutilized, you can either sell it or move it to another location. But if an asset is overutilized, that tells you it may be time to purchase more equipment.
Avoid detention time
Any time spent loading and unloading trucks beyond two hours is known as detention time, and it costs trucking companies a staggering $1.1 to $1.3 billion a year.
The following chart shows how long trucks wait to load and unload:

High detention times cost your fleet money, as your drivers are stuck waiting. They can also cause your company to miss delivery times.
With GPS data from ELDs, you can share accurate arrival times with shippers to prepare orders. You can also track detention times and bill accordingly.
Automate IFTA fuel tax reporting
Filing your International Fuel Tax Agreement (IFTA) reports can be a tedious process, especially when you're manually preparing those reports.
The right ELDs can automatically calculate IFTA and save your company hundreds of hours in the process.
Perform preventive maintenance
ELDs enable you to track mileage and hours-of-use for your trucks, so you can automate fleet maintenance and ensure the safety of your vehicles.
Because ELDs are connected to a vehicle's diagnostic port, you also receive instant alerts if a fault code is detected. A fleet operator can either direct them to a service station or send someone to help if needed.
Choosing an ELD for your trucking operation
No two ELDs are alike, making it difficult to find the right one. So which ELD should you choose for your fleet? What features should you look for?
Here's a list of features to help you choose an ELD for trucks.
FMCSA-compliant
Make sure that you comply with all requirements by choosing an ELD that's certified and approved by the FMCSA. Choosing an ELD that's not FMCSA-compliant can result in hefty fines and risk putting your drivers out of service.
The FMCSA maintains a list of approved ELDs. Look for one that complies with all US, Canadian, and Mexican regulations.
User-friendly interface
Choose an ELD with a user-friendly interface that enables your drivers to quickly check their duty status and complete inspection reports. It should also make it easy for them to complete data transfers at inspection points.
CalAmp has partnered with assured Techmatics to offer apollo ELD, an ELD that features a rugged design and a streamlined interface.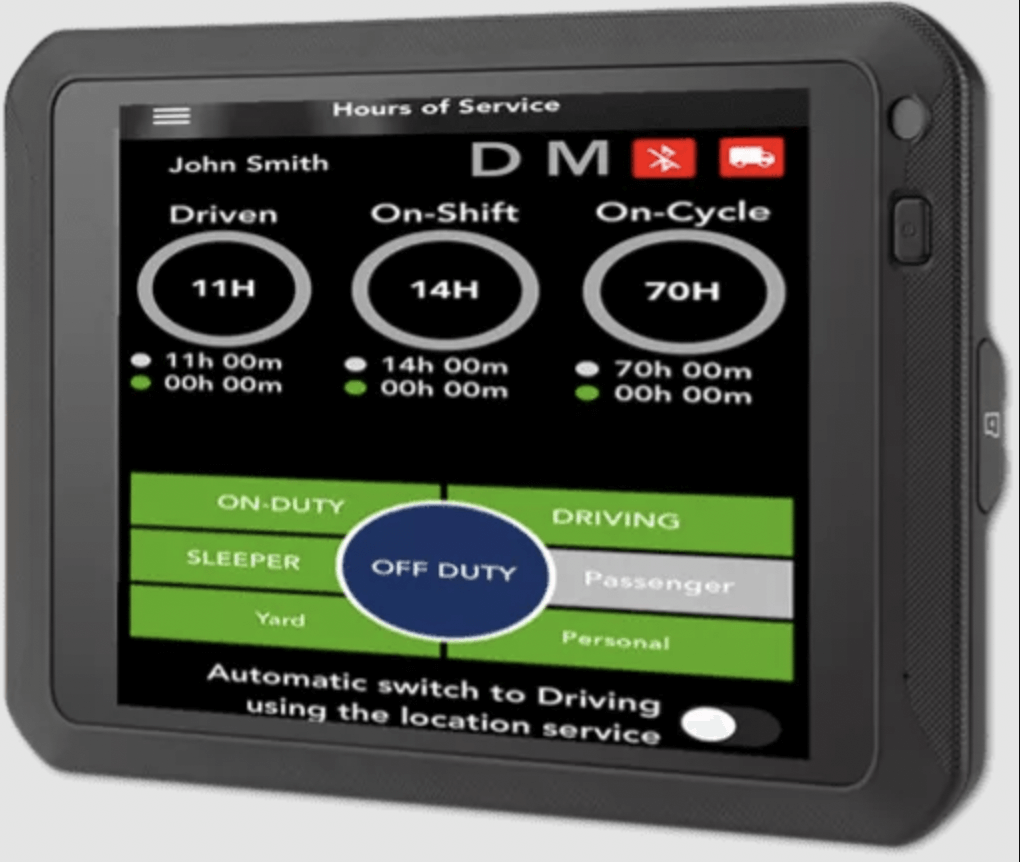 Drivers already have a lot of responsibilities. The last thing they want is to spend their time figuring out how an ELD works.
Third-party integrations
ELDs offer more functionality when their data can be shared with other systems. Streaming telematics data into your systems can enhance visibility across your fleet.
CalAmp features application programming interfaces (APIs) that let developers integrate data through the CalAmp Telematics Cloud (CTC) into your systems. Our platform enables you to unify your ELD data with fleet management data.
Reporting capabilities
How are assets being used, and what are their utilization rates? How can you improve safety across your fleet? Where can you reduce operational costs?
Answering these questions isn't easy unless you have the right data.
Choose an ELD with comprehensive reporting capabilities. It should also include intuitive dashboards that let you view key information from one screen.
The apollo solution offered through CalAmp shows data about your fleet in easily digestible charts and graphs: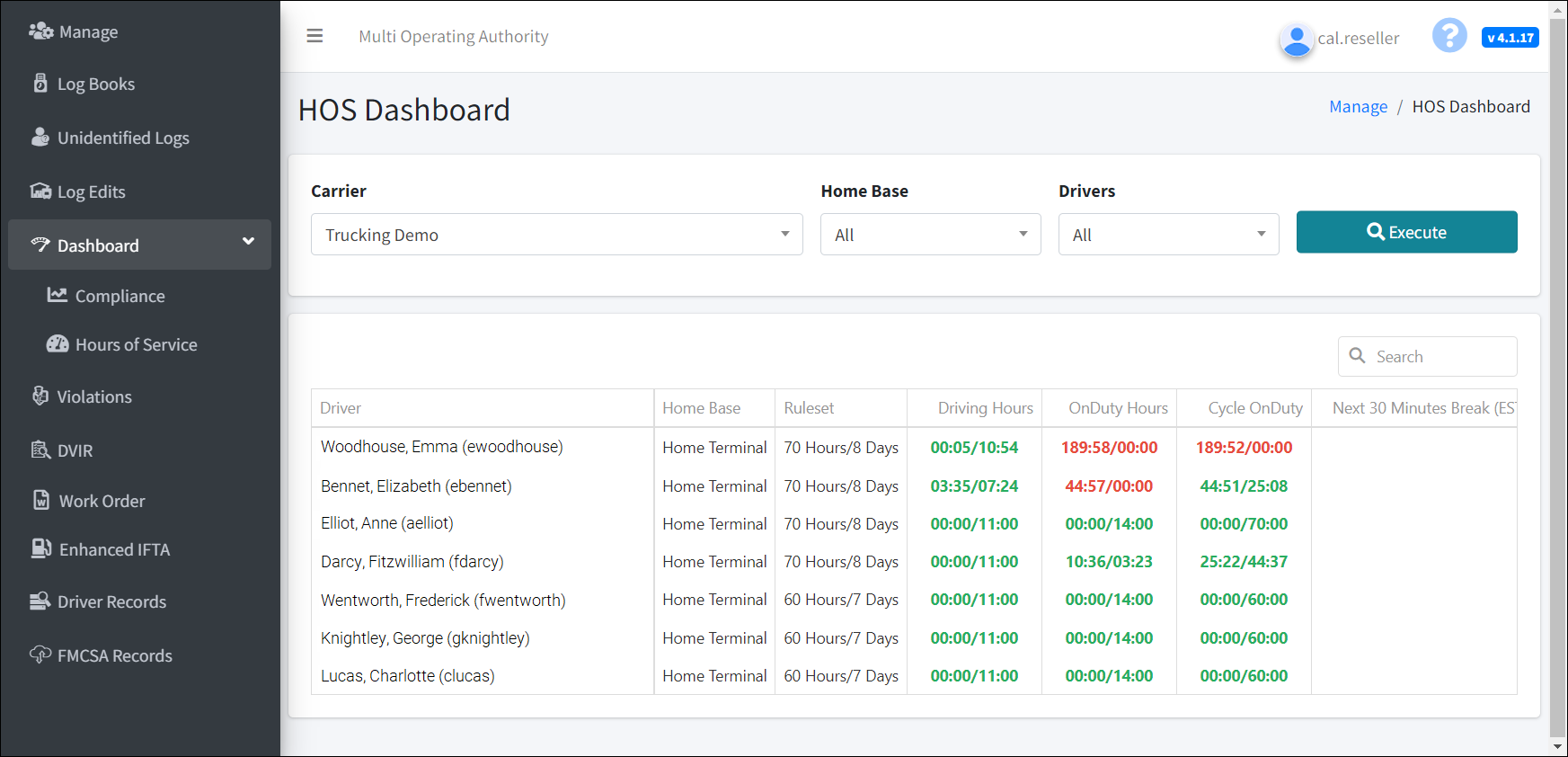 At a glance, you can view details like driving hours and on-duty time for each of your drivers. What's more, you can quickly generate reports on everything from asset utilization to fuel consumption and more.
Conclusion
Most CMVs are required to have logging devices installed to meet ELD mandate requirements. However, complying with the mandate isn't the only reason to install ELDs. They can streamline your operations, improve asset utilization, increase driver safety, and much more.
If you're looking for an FMCSA-compliant ELD, CalAmp can help. We've partnered with assured Techmatics to offer a fully compliant ELD.
Request a demo today to see how the apollo ELD combined with our telematics solution gives you full visibility into your trucking operations.