Fleet vehicles often carry valuable assets in trailers. While operators and business owners usually focus on vehicle and driver management, trailer tracking is equally important.
Ensuring assets like goods, equipment or cargo that are stored or transported in vehicles or trailers don't get lost or damaged is a tricky job since these issues can often be caused by human error.
So how do operators monitor their trailers and the cargo within them? They use a GPS-based asset tracking and management solution that shows them where their assets are in near real-time.
In this article, we'll explain what GPS trailer tracking is, why they're essential for fleet owners, and what to look for in fleet telematics software.
What is GPS trailer tracking?
In fleet management, GPS trailer tracking includes the use of compact, durable telematics devices that track where trailers are and how they're being used in real-time.
Fleet companies attach GPS trackers to their trailers or cargo. These devices track the location and status of the trailer and its contents. They relay this information in real-time via fleet telematics software.
The main goal of this is to let fleet operators see where their assets are at all times and prevent trailer breakdown, trailer theft, or asset loss.
For example, if a logistics company must deliver high-cost cargo, they can track the trailer's location, monitor cargo load, dwell times, and any other related data.
Operators get alerts that help them identify suspicious behavior, like taking a different route or unusual door opening or closing activity. They can use this to check in with the driver to ensure there are no issues or take immediate action if necessary to prevent lost cargo.
GPS-based fleet telematics solutions also have a range of other features that help improve fleet productivity, maintenance, and safety. For example, you can monitor driving behaviors, schedule maintenance based on mileage, and maximize asset utilization.
The importance of GPS trailer tracking
Every fleet operator using trailers to ship goods can benefit from trailer GPS tracking.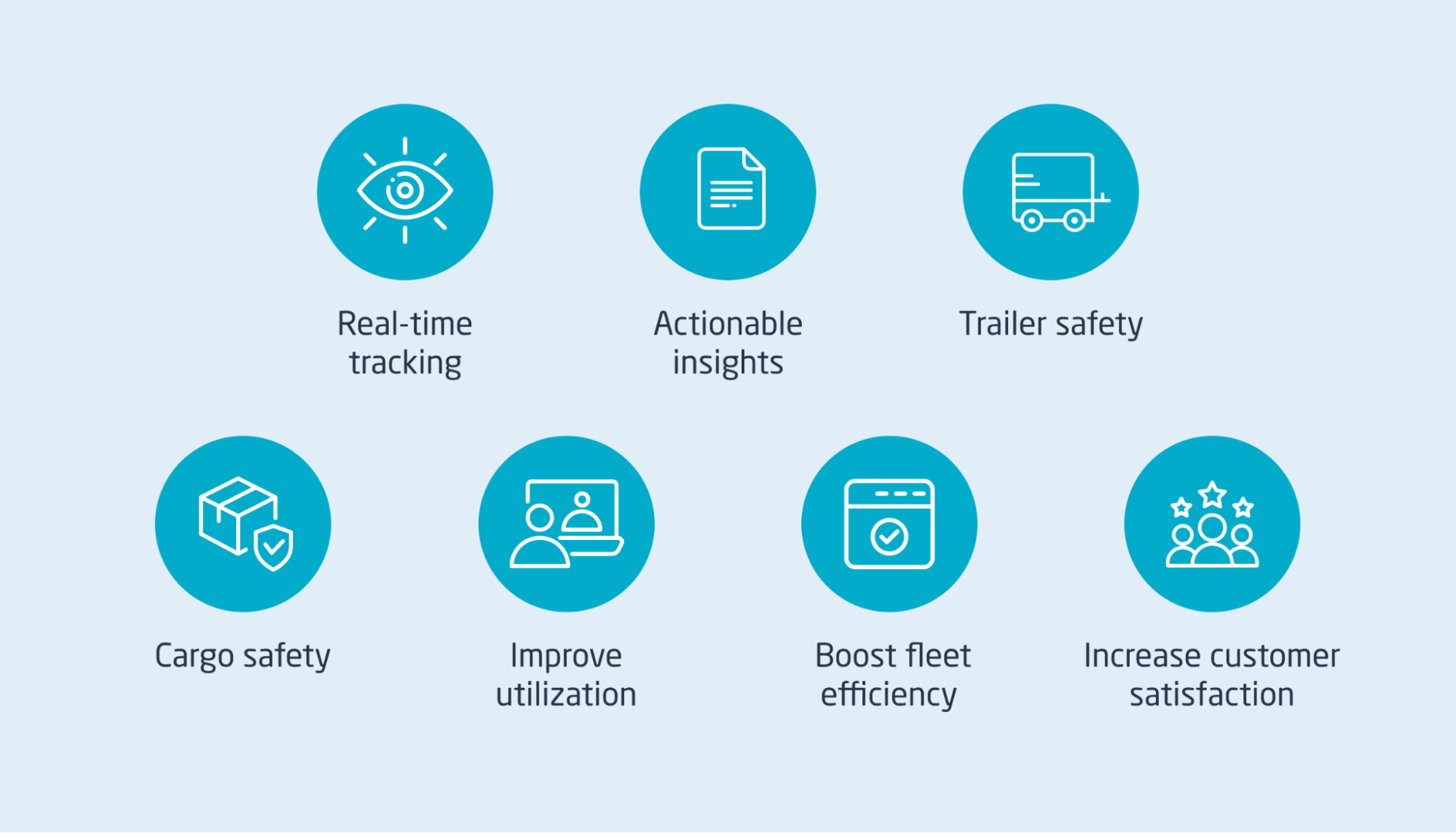 Let's look at how.
1. Real-time tracking
When operators can pinpoint the location of every fleet vehicle and trailer in real-time, they can improve how they schedule and manage their trucks and tractors. This is especially crucial for long-haul trucks carrying goods, where a lack of tracking leaves operators in the dark until truck routes are completed, or delays/incidents occur.
Managers can track both powered and non-powered assets using fleet telematics systems. This software often has additional features that provide vehicle diagnostics and enable operators to take action almost instantly.
If you're operating a commercial cargo fleet, you can use tracking to design routes that ensure cargo reaches its destination on schedule. Moreover, historical data can help operators assign high-priority trailers and assets to the most efficient drivers or routes.
For example, operators can assign multiple high-value cargo loads to a specific trailer and use a truck driver truck that has routinely delivered goods on time.
2. Actionable insights
Operators using a fleet telematics system to track their trailers can get an instant overview of which trailers are in use. They can also see data on where the trailers have been before and distribute them based on the latest demands.
This informed decision-making is nearly impossible without GPS tracking since operators rely on self-reports and approximate data collected at the end of the day or week.
GPS tracking systems give operators the power to make better decisions on the spot rather than take retroactive steps to resolve issues or boost productivity.
Operators can use data collected using fleet software to gain accurate insights and improve trailer usage across the workforce.
3. Trailer safety
GPS trailer tracking software also provides key smart trailer functionality like unified sensor data, wheel-end temperature, door open and close times, and trailer capacity detection.
CalAmp enables actionable insights via edge-to-cloud sensor data that is crucial for improving trailer and overall fleet safety.
The Wheel-End Temperature System (WETS) monitors the temperature of trailer wheels and alerts the operator and driver if temperatures are too high or low. This is critical for preventing breakdowns and collisions.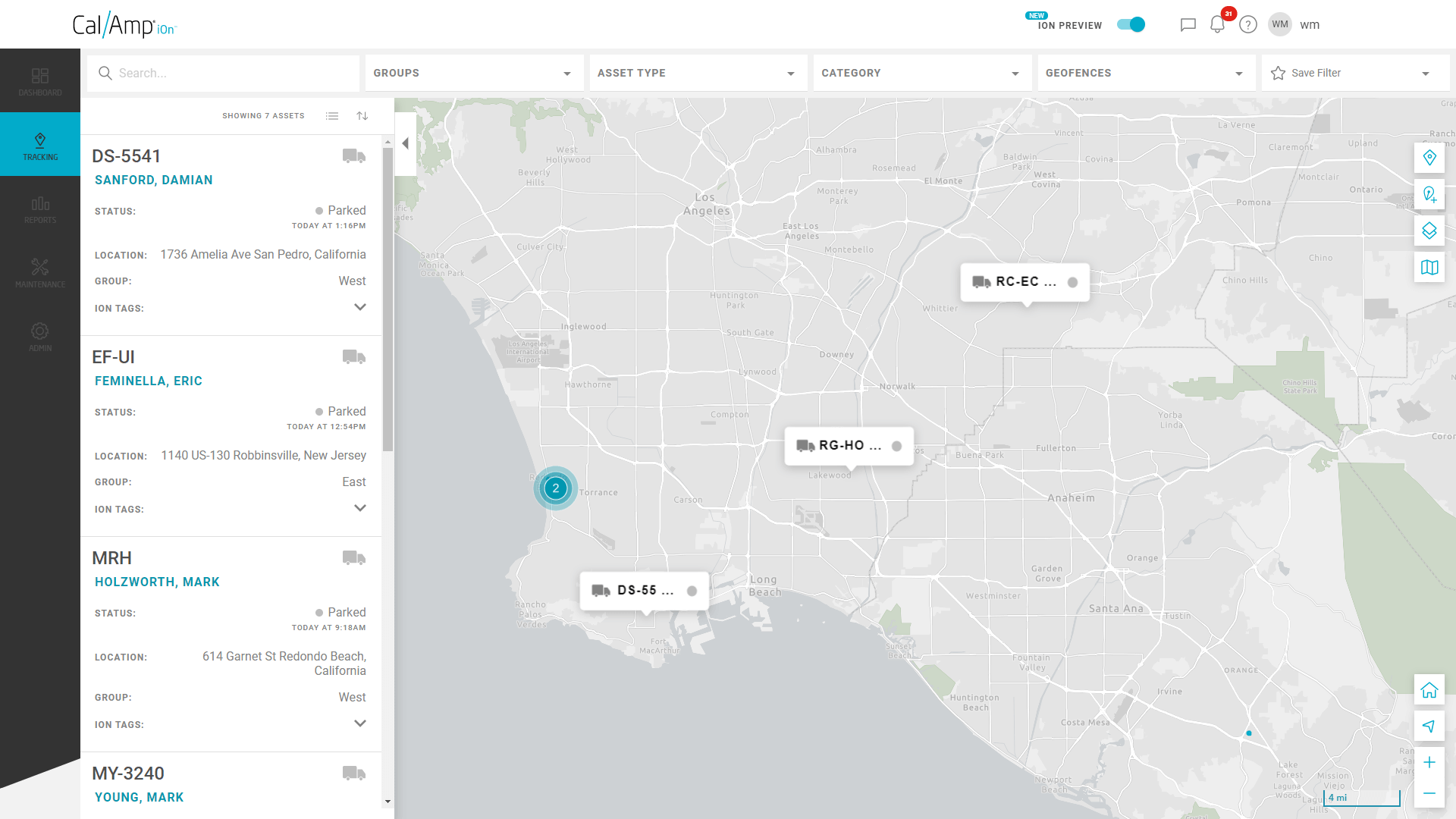 If your long-haul trucks are carrying valuable cargo, then monitoring when trailer doors are opened and closed in real-time is necessary. Since managers, operators, and drivers can track when the trailer is opened or closed, there is a reduced chance of theft, tampering, and unauthorized trailer usage.
Operators also need fleet trailer sensors that detect the weight of the cargo. Alerts when a trailer is overloaded help avoid excess loads that lead to potential roadside delays and repairs. On the other hand, managers can optimize under-utilized trailers to add more cargo items or reduce delivery times via better routes.
Trailer tracking software can also provide data on dwelling times, tire pressure, temperature patterns, and detention times.
4. Cargo safety
Cargo is worth thousands or sometimes millions to businesses and their clients. Loss of these high-value items can be devastating, both financially and in terms of client relations.
To prevent this, GPS trailer tracking using CalAmp lets operators check when a trailer door is open or closed. They can also see dwell times.
Unusual data in these factors indicate theft risk situations. For example, if a driver suddenly stops for a long period at an unauthorized location, operators can immediately check in to see why and take action.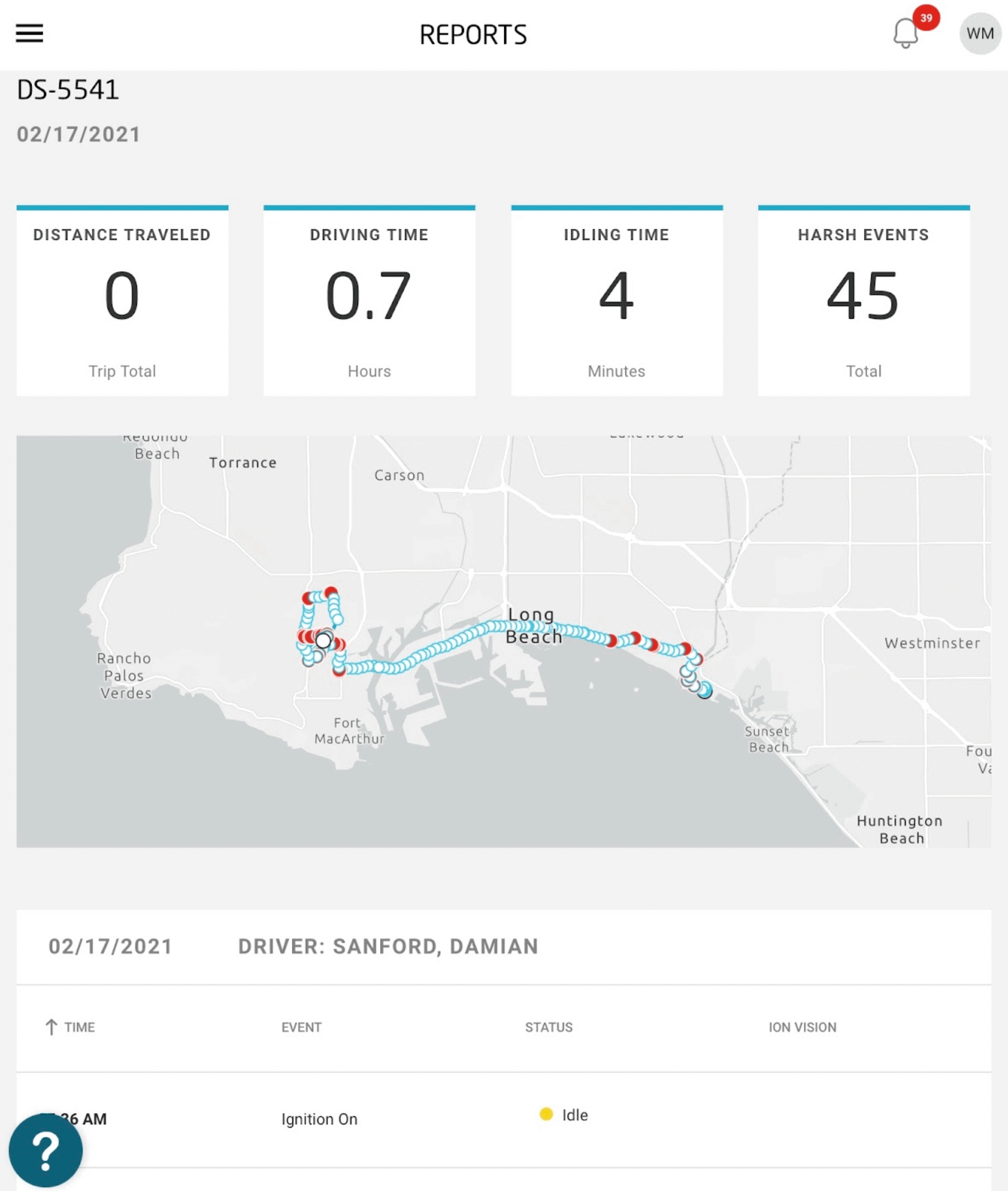 Geo-fencing also helps with cargo safety. CalAmp lets you create geo-fences around locations like job sites and warehouses that automatically log when a vehicle enters or leaves.
5. Improve utilization
Apart from safety, improper vehicle and asset utilization is the biggest threat to a successful fleet.
Utilization reports help operators identify when trailers are not maintained properly or are being over or under-utilized. Poor utilization leads to workers and operators wasting time and money. It also increases the risk of liabilities from safety risks.
Some fleet systems allow operators to detect trailer capacity, so they know when their trailers have room for more goods or cargo. They can use this data to maximize trailer utilization.
Maximizing trailer utilization and planning efficient routes can reduce redundancies and save money.
If a fleet has 16 trailers, but most are running half full, then increasing capacity means fewer trips are necessary and more goods can be shipped with fewer trailers.

6. Boost fleet efficiency
All of the factors mentioned above help improve fleet productivity. Features like trailer tracking, engine and trailer diagnostics, and instant alerts help managers streamline fleet operations and improve decision-making.
Since operators have a constant view of their vehicles and trailers, they can see potential delays and contact the driver for quick updates and resolutions.
Fleet efficiency is also improved via regular maintenance alerts for trailers. These alerts help operators perform pre-emptive maintenance and fix minor issues before they devolve into major repairs with significant downtimes.
When one trailer requires mechanical repairs for an extended period, another trailer needs to be used which could cut down on shipment capacity capabilities . It also creates scheduling issues and negatively impacts your fleet's capacity.
You can prevent these common issues and preemptively plan for trailer maintenance with greater visibility into all your trailers with a trailer tracking system that is part of a unified fleet management solution.
7. Increase customer satisfaction
On-time service and delivery completion lead to happy clients, who will continue to use your trucking or logistics company in the future.
The opposite is true for delivery delays. Long-haul trucks not arriving on time, lead to logistic delays across the workflow and have a significant negative impact.
For example, if a fleet that delivers goods to retailers is late, then the retailers cannot adequately serve shoppers. They will then get customer complaints or might even lose customers altogether.
Most organizations that rely on truck-based fleets for on-time cargo delivery, will likely turn to other fleet companies if there are recurring missed deadlines or delays.
6 key features of a GPS trailer tracking solution
When choosing a GPS trailer tracking solution, there are six vital features to look out for.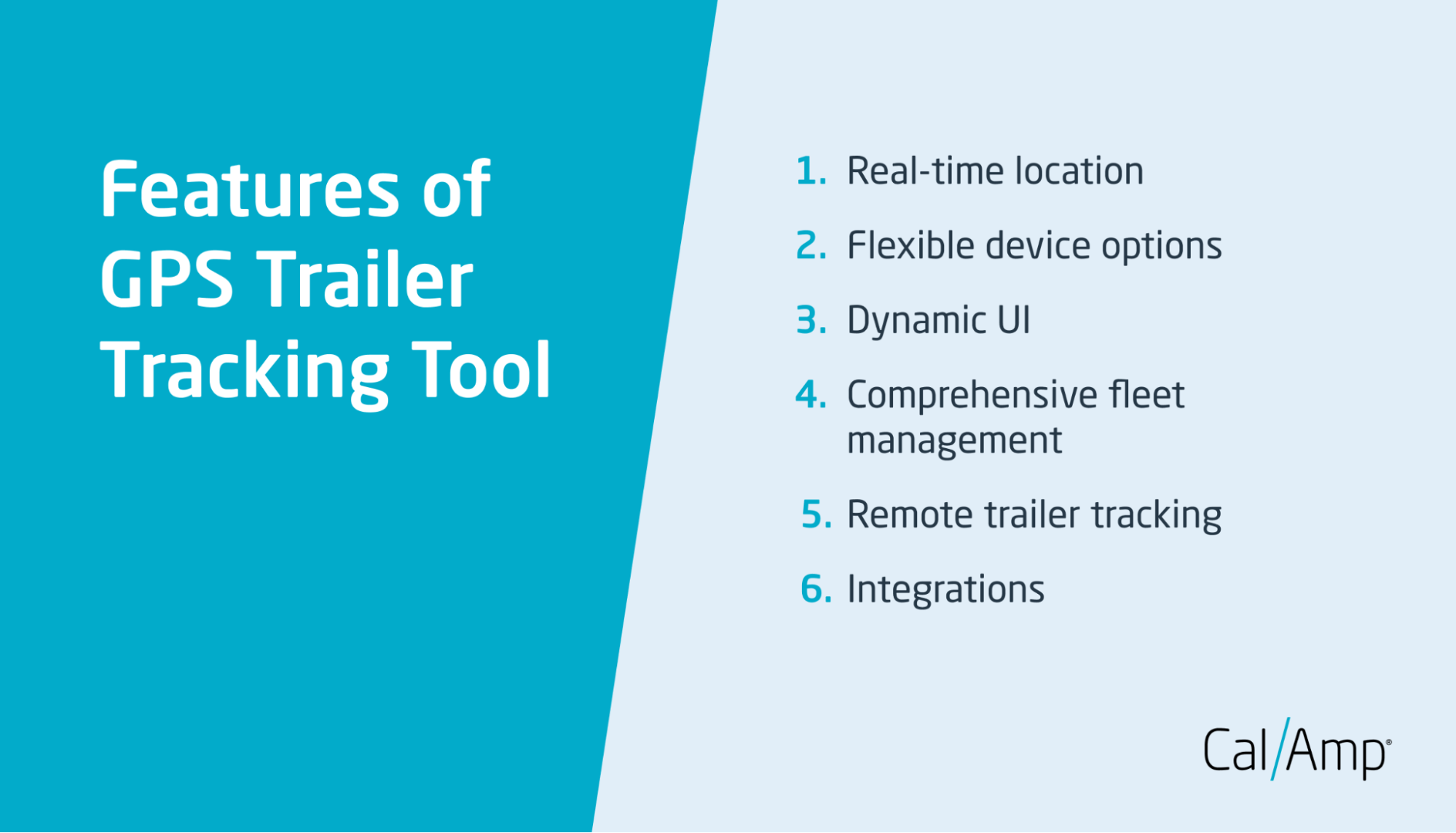 Be sure the GPS trailer tracking solution you choose has the following features.
1. Real-time location
The primary feature of any GPS fleet system is detecting where the trailer or cargo is in real-time. Delays in location information negate the point of the software and leave operators relying on old-school communication to collect data.
A GPS trailer tracking software that displays vehicle and cargo location at a glance can help operators navigate fleet routes more efficiently and immediately handle any incidents.
Precision tracking is key to ensuring that your fleet is running on time. Any deviations from a route or delays can indicate factors like traffic jams or weather issues, but they can also be a sign of misuse, inefficiencies at transition points or risk of asset theft.
2. Flexible device options
Your GPS tracking solution should come with hardware that is easy to install and use. It must access the latest network technology to provide constant location updates and regularly collect data.
In addition, the devices must be durable and able to withstand rugged road conditions and high-speed driving.
CalAmp offers a range of tracking devices, from compact battery-operated devices with built-in antennas to advanced solar-powered trackers.
Operators should be able to work with their provider to pick the correct devices for their needs rather than adjust their trailers and assets to match rigid device specifications.
3. Dynamic UI
Fleet software that restricts operators to a specific device or location hinders productivity, especially in a fast-paced work environment involving a mixed fleet of vehicles and trailers.
To help operators manage their dynamic fleets, you need GPS trailer tracking software with an intuitive UI that is easy to use.
The tool must work on different devices, be it a computer or tablet, and allow for accessible information collection regardless of location, be it in the field, at a job site, or an office.
4. Comprehensive fleet management
GPS tracking is one of many tools required to effectively manage a fleet, so your software must offer more than basic trailer tracking.
A unified fleet telematics solution like the CalAmp application is the best choice for operators that need to combine fleet visibility, asset management, vehicle management, reporting, driver safety, and compliance on a single platform.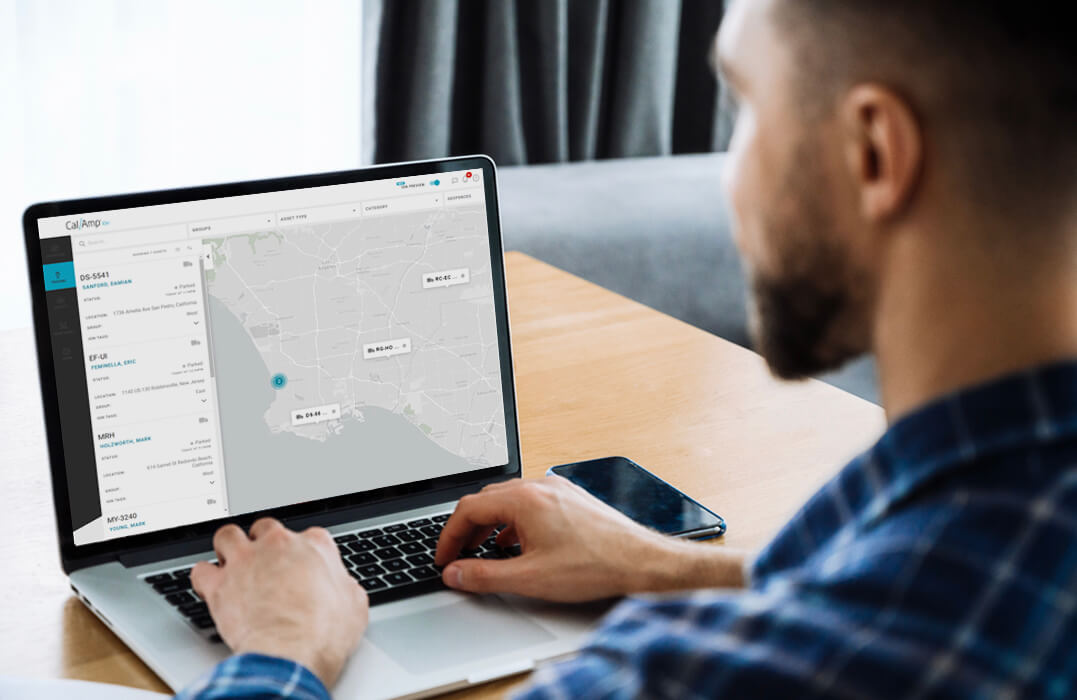 Software like this dramatically improves what an operator can do since all the crucial data they need about their vehicles, drivers, and assets is in one easy-to-use tool.
5. Remote trailer tracking
Remote fleet management is essential for operators today, and your GPS trailer tracking system must cater to this.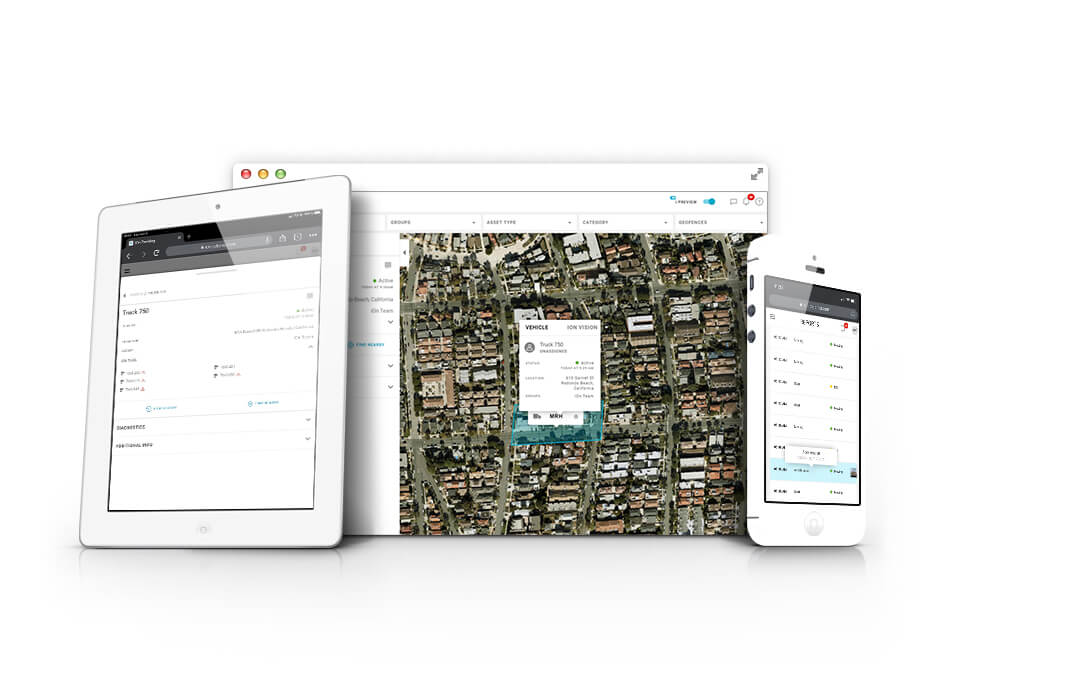 Operators, supervisors, and business managers must be able to check on their vehicles, trailers or cargoand take action regardless of job sites, office locations, or other geographical constraints.
This helps companies build fleet workforces that support remote and hybrid workers, reducing costs and increasing productivity in the process.
You don't want a fleet operator missing out on a crucial decision or being unable to handle sudden incidents because they weren't at their desk.
6. Integrations
The GPS trailer tracking solution you choose must easily integrate into your existing systems. Trailer tracking should not only be part of a cohesive fleet management solution but also integrate with third-party data, like ELDs and fuel cards, as well as other back office business operations systems.
A standalone tracking device without APIs or adequate, customizable integrations will hinder your fleet management since operators are forced to deal with slower data transfer, siloed data insights, and delayed decision-making.
If a fleet manager has to check three different apps for every decision they make, efficiency is lost, and consequently, their fleet's potential is reduced.
Conclusion
GPS trailer tracking isn't a new invention. It's been around for ages, but CalAmp takes it to the next level by providing a comprehensive fleet and trailer management solution, where tracking is just one of many beneficial features.
CalAmp's edge-to-cloud smart trailer technology provides granular visibility into trailer utilization and health. It helps operators track trailer locations and monitor vehicle diagnostics, while also handling fleet safety, maintenance, and compliance — all from one platform.
Request a demo to discover how CalAmp can elevate your fleet operations with our GPS trailer tracking devices and unified fleet telematics solution.