Driving safety broadly impacts organizations operating private and for-hire fleets. Operational efficiency, regulatory compliance, revenue, and profit margin outcomes are all dependent on the safe performance of drivers, vehicles, and trailers. Market dynamics such as higher fuel prices and a driver shortage heighten the importance of improved safety, placing greater emphasis on the need to control costs, support customer satisfaction, avoid regulatory entanglements, and sustain productivity.  
The

Cost of Complacency
Commercial auto insurance premiums have continually risen for a number of years. Significant contributors to this trend include a 43% increase in large truck-related fatalities from 2010-2019, coupled with an almost 10X increase in average verdict amount over the same general period. At the same time, minimum coverage requirements have not risen in-line with these dramatic penalties. For example, minimum liability coverage requirements for for-hire property carriers have remained constant at $750,000 (or $1 million for certain insurance carriers). Based on this precedent, an at-fault fatal accident can pose an existential threat to your business, even when you can be considered "fully covered".    
Unplanned vehicle, asset, and driver downtime stemming from safety incidents strain profitability and sap productivity as well. For example, the overall cost per mile for repair and maintenance increased by 39% since 2008, per the American Transportation Research Institute. Additionally, the American Trucking Association estimates costs for labor and parts have recently increased 14.2% and 8% respectively. Meanwhile, it is estimated the average service truck generates $30,000 per month. Meaning, every down vehicle can add to the cumulative impact to your business in the form of lost revenue.  

The Federal Motor Carrier Safety Administration (FMCSA) has also implemented a number of mandatory compliance initiatives including the Safety Measurement System which ranks carriers for safety, Electronic Logging Devices (ELD) targeting driver fatigue, and Driver Vehicle Inspection Reports (DVIR) for vehicle maintenance. Poor performance or failure to comply with these programs can trigger various punitive measures, such as fines and out-of-service orders.   
To bolster transparency for fleet safety and compliance performance, the FMCSA publishes much of the data it captures. Because this information is freely accessible, customers and insurance carriers can easily incorporate it in vendor selection and rate-setting calculations.  
How Current Solutions Fall Short
Recent data from Bobit Research Services indicates the majority of fleets with 10 or more vehicles have implemented the following safety strategies: 
Written safety policies and procedures

 

Well-maintained vehicles

 

Driver training

 

Strict driver hiring standards

Emphasizing a culture of safety throughout the company. 

 
Meanwhile, as shown below, 64% of respondents in Bobit's "Fleet Safety and Accident Management Study" indicated that several, most, or all of their fleets' accidents were preventable.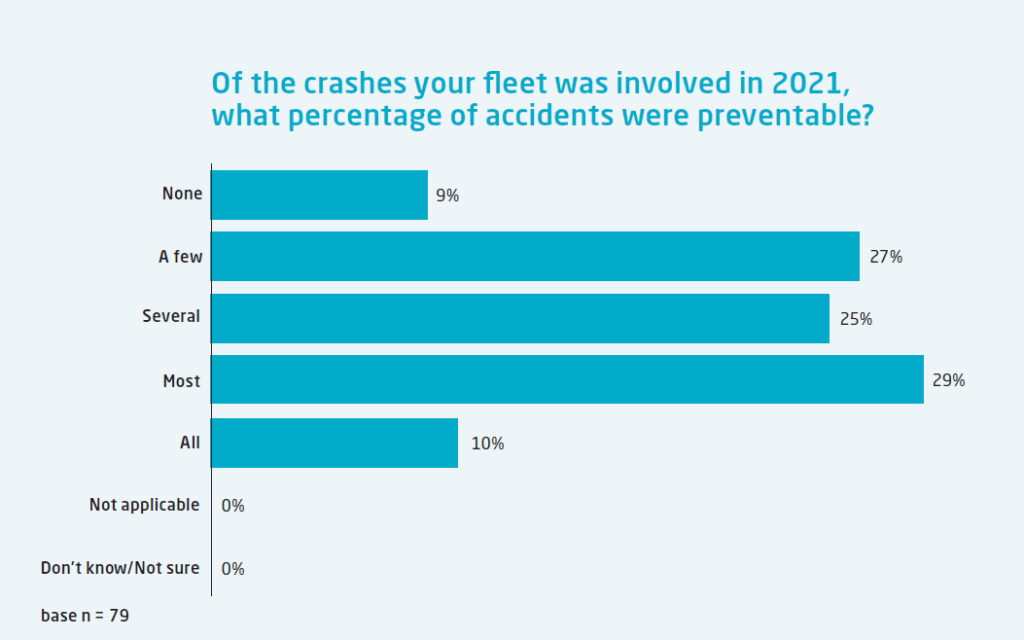 Obviously, the steps most have focused on (policies, maintenance, hiring practices, training, and culture) provide a necessary foundation for any effective fleet safety program. But the substantial number of preventable accidents clearly underscores the importance of further investment in driving incident avoidance measures.  
Tackling the Problem
For a deeper exploration of fleet safety and compliance, including recommended next steps, refer to CalAmp's new ebook: "How to Fortify Your Fleet Safety and Compliance Program". This resource includes a 7-step recipe for strengthening your program, with processes and capabilities proven to:  
Minimize risky driving behaviors

 

Prevent avoidable accidents

 

Avoid liability for no-fault accidents

 

Reduce unplanned repair and maintenance costs

 

Heighten operational efficiency

 

Elevate CSA scores

 

Delight customers and prospects

 

Exercise more control over coverage rates