The "yard" of a facility or distribution center is one of the most important aspects of the modern supply chain. However, yard inefficiencies can become a bottleneck in your daily operations. Hunting for the right trailer in the yard, sending a trailer to the wrong dock, and letting empty trailers sit idle all add up to money lost.
So how can you create a more efficient yard? How can you increase visibility into your trailers and optimize utilization?
This is where yard management comes in.
In this article, we'll explain what yard management is and why it's important. We'll also look at how smart trailer technology from CalAmp can help optimize your yard management.
What is yard management?
Yard management is the process of coordinating inbound and outbound freight in the yard of your facility or distribution center. It includes organizing the movement of your assets, as well as loading and unloading goods from a truck or container.
Note that yard management can also refer to managing automotive scrap yards, but in this context we're talking about managing yards in a facility or distribution center.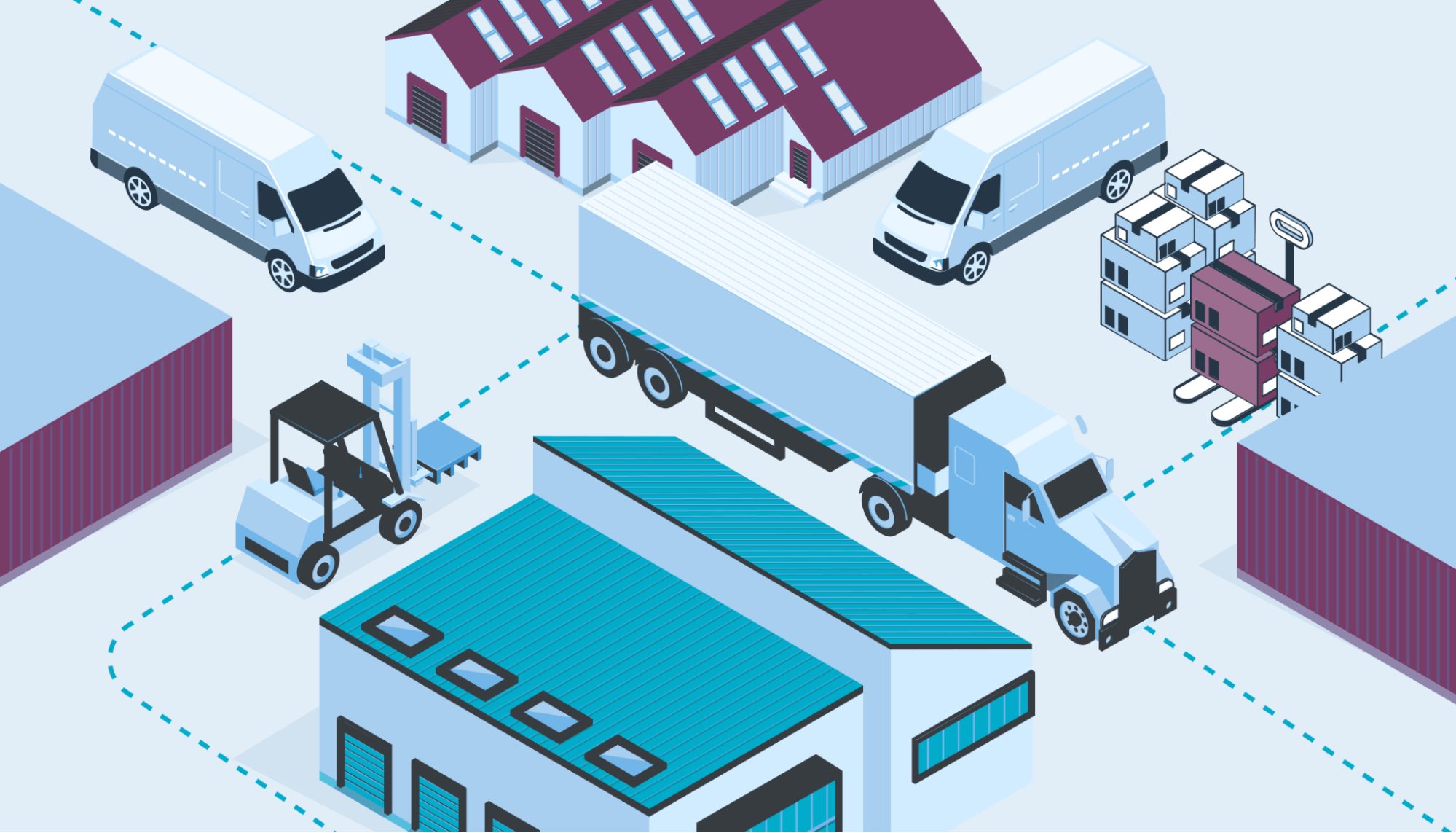 Drivers are on busy schedules.
A lack of trailer and shipment visibility can result in high detention times — the extra time that drivers spend past two hours loading or unloading shipments. If this happens enough times, carriers may avoid your facility because of its reputation for long wait times.
Improving your yard management can provide real-time visibility into your yard and minimize situations where carriers are left waiting longer than expected to receive cargo.
Instead of manually coordinating their operations, more companies are using yard management systems (YMS). These solutions are designed to track and monitor asset locations. Some can even assist with appointment scheduling, dock management, daily yard checks, and more.
Why is yard management important?
Managing a small yard is fairly straightforward. But relying on spreadsheets — or worse, pen and paper — to manage and coordinate freight isn't practical as your operation grows.
Here's how using GPS trailer tracking solutions can improve your yard management.
Reduce time spent searching for trailers
Yard jockeys play crucial roles in yard management. They're tasked with moving trailers and managing the overall "flow" of a yard.
But when yard jockeys waste time hunting for trailers, yard operations are slowed and labor hours can spill into costly overtime.
GPS trailer tracking enabled by solar powered telematics gateway devices on trailers provides real-time location data that eliminates time wasted looking for their assigned trailer resulting in happier drivers — an important benefit given the chronic driver shortage.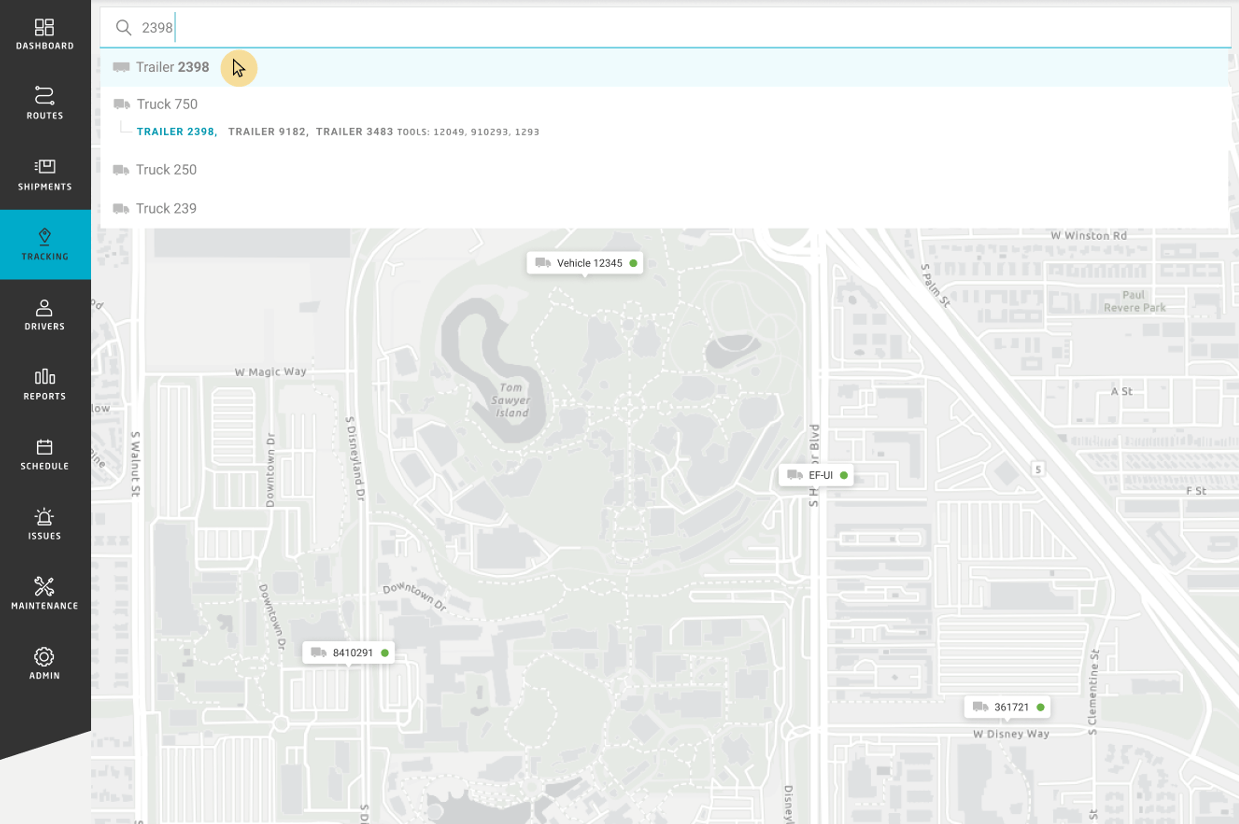 Even without a yard management system, trailer tracking solutions can make these drivers more productive.
Instead of wasting time looking for "lost" trailers, jockeys will be able to quickly locate the trailers they need to move. This increased visibility translates to fewer errors (like picking up the wrong trailer) and more moves per day.
Identify empty trailers and boost utilization
With trailer tracking, you know where your trailers are, but are they empty and ready to receive a load?
Companies waste a lot of time performing manual checks to determine trailer capacity. That's where an edge-to-cloud smart trailer platform comes into play.
Ultrasonic trailer cargo sensors affixed to the inside of the trailer roof identify which trailers are empty and how much space is available. These can be installed by the trailer manufacturer or by the freight transport or trucking company as an aftermarket addition.
Cargo sensors provide real-time visibility into trailer capacity, enabling fleet operators to improve utilization without having to manually check each trailer. View the data in our cloud-based CalAmp web application or feed it directly into your yard management system.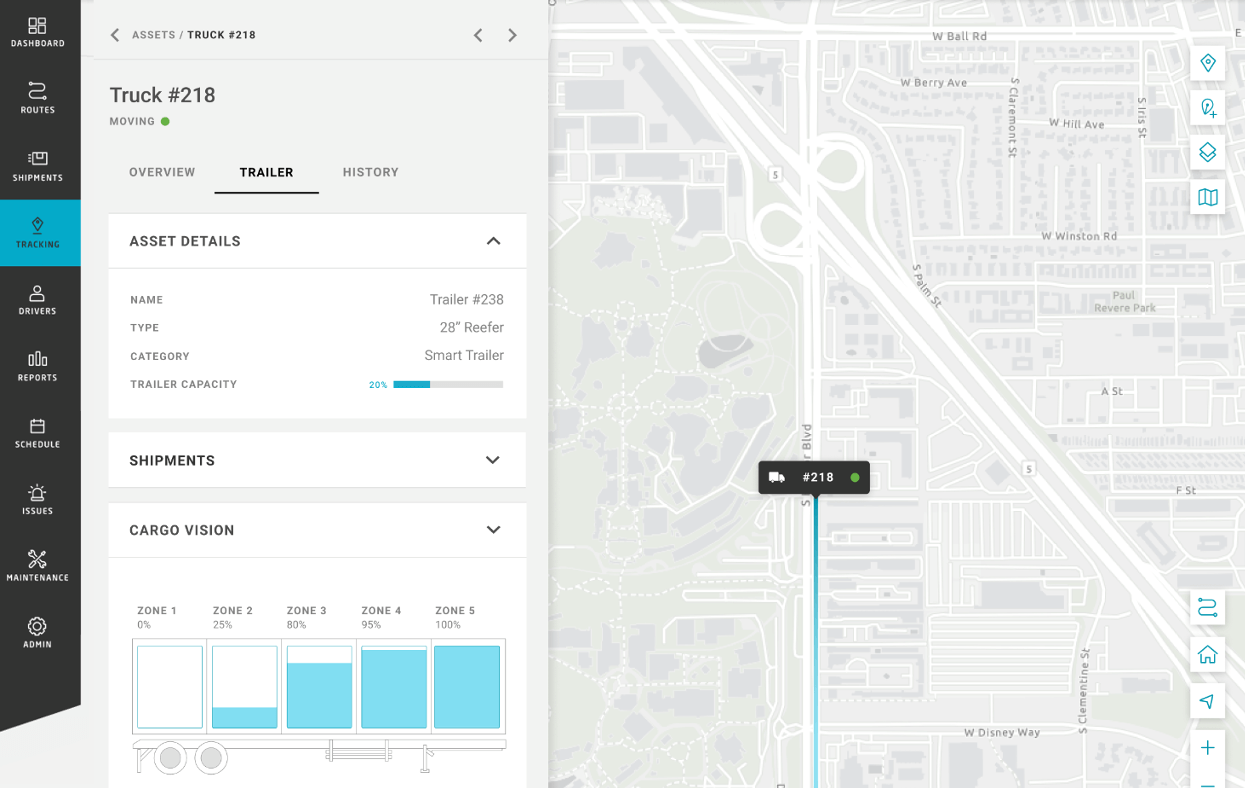 If a trailer on the road is underloaded, a fleet operator can instruct drivers to make another stop to pick up more cargo. Managers can also identify overloaded trailers and have drivers redistribute the goods before an accident occurs.
Get the right trailer to the right dock door at the right time
Warehouses and distribution centers waste a lot of time running the wrong trailers to the wrong dock doors. Trailer trackers that send location data to the cloud, and ultimately into a yard management system, help warehouse managers cut that waste.
Each trailer parking space and dock location can be geofenced, and those geofenced locations can be connected in a yard management system or web application. Together, GPS trailer tracking and geofencing supply essential data to support system-directed moves that match the trailer to the correct dock. This in turn allows the shuttle driver to find the right trailer and move it to the right dock in a single trip, without multiple radio calls or paper pick lists on clipboards.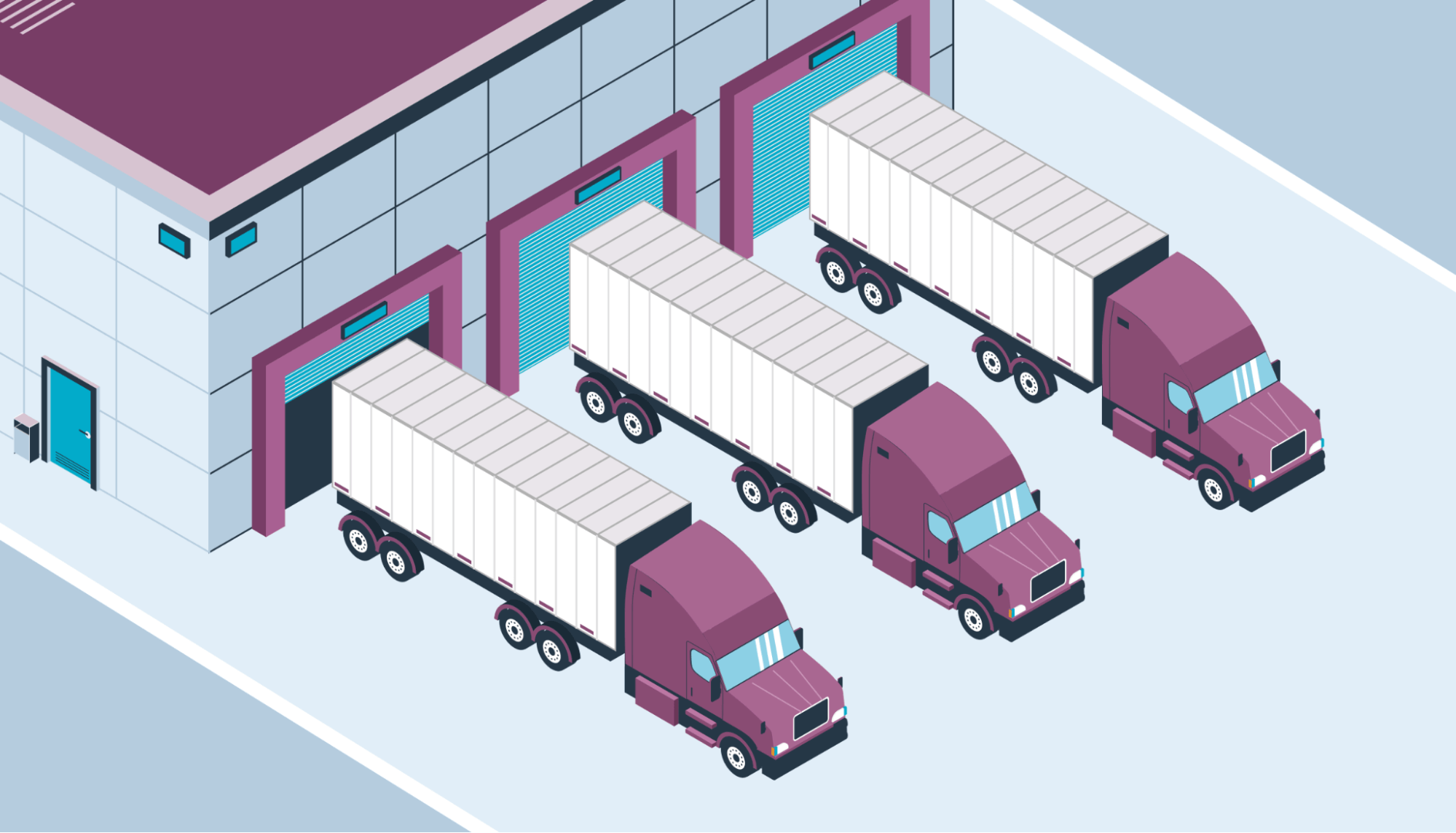 Warehouse and yard managers can also monitor the location of trailers as they move from parking space to dock, and to a new location once fully loaded. Visibility into all the trailers in a yard allows the yard management system to coordinate trailer loading and unloading and overall movement for maximum efficiency.
If a trailer or other piece of equipment leaves designated areas outside normal operating hours, one likely explanation is theft. Geofence-triggered alerts and real-time tracking can aid in recovery efforts.
Minimize detention charges and keep your yard moving
Empty trailers sitting in the yard can get expensive fast.
Trailer trackers such as a solar powered asset tracker used in conjunction with a smart trailer platform can provide dwell time on every trailer in the yard, which lets yard and shipping managers know how long a trailer has been sitting.
Trailer tracking can also help reduce detention time, which costs drivers a staggering $1.1 to $1.3 billion a year. The table below shows how long drivers wait on average to load and unload.

Detention rates can range anywhere from $25 to $100 per hour and can easily hit hundreds of dollars per day (or even more for multiple trailers) when a shipper fails to unload a trailer within the agreed-upon time.
Trailer tracker data can be used to alert yard and warehouse personnel when a load arrives so a dock door can be quickly assigned and the truck can be unloaded and sent to its next stop.
Monitor tire status
A trailer may be empty and ready to receive cargo, but are its tires ready to hit the road? Are they underinflated or flat?
If a driver has to wait for maintenance personnel to inflate or replace tires, or for another empty trailer to be found, dwell time increases.
A trailer tire pressure monitoring system (TMPS), another feature of smart trailer technology, is critical to maximizing the efficiency of yard operations. Increased visibility into trailer readiness helps maintenance, dispatch, and other teams work more efficiently to manage yard operations.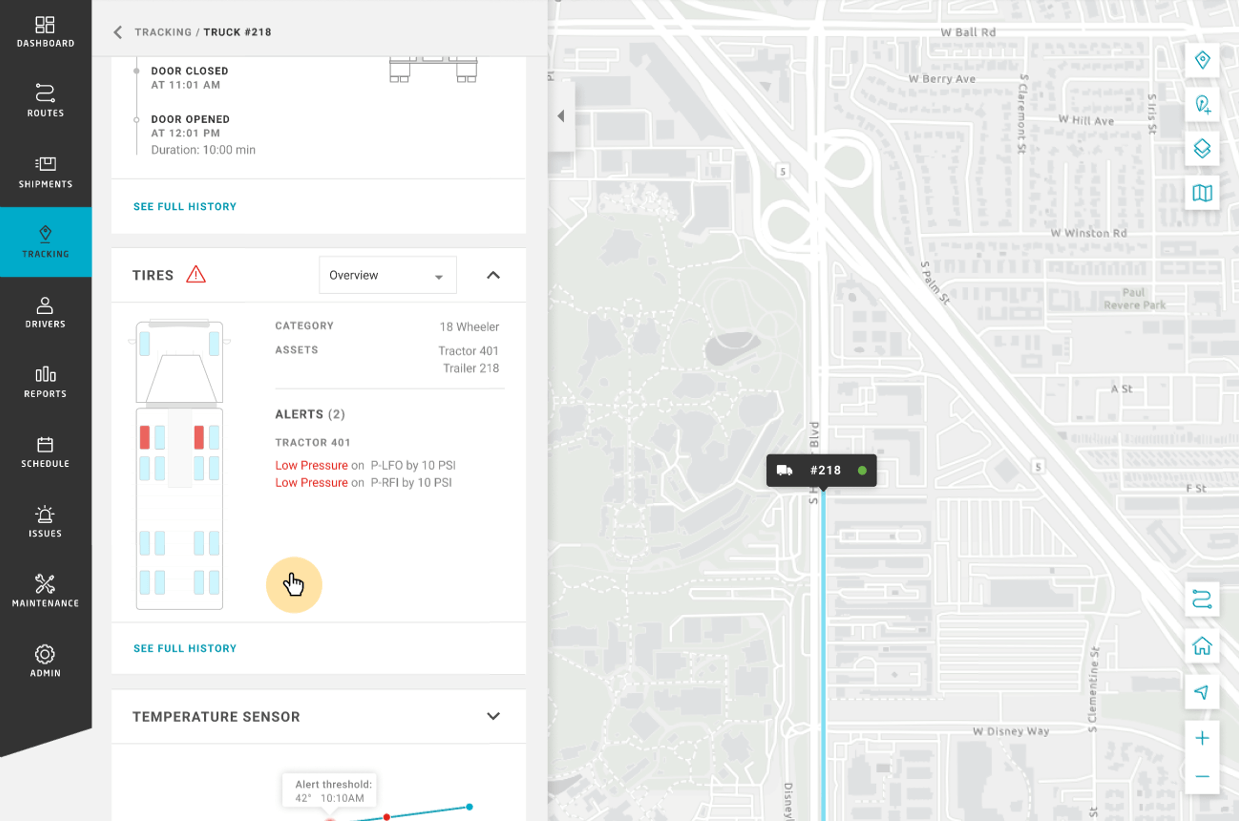 Together with trailer tracking and cargo sensing, tire pressure monitoring can create more transportation capacity by reducing dwell time.
A wheel-end temperature system (WETS) constantly monitors the temperature of each trailer wheel. The system notifies the driver and fleet manager if temperatures become unsafe. A technician can then take preventive action to avert costly breakdowns in the future.
Now that you know more about yard management and how a smart trailer solution can boost productivity, let's look at how you can incorporate it into your operations.
How to improve your yard management
Follow these steps to make your yard operations more efficient.
1. Increase trailer visibility
Without real-time visibility, it becomes difficult for yard jockeys to locate yard assets or track trailer movements. These inefficiencies can lead to yard congestion and result in long detention times.
The first step to improving your yard management is to gain full visibility into your operations.
This is where CalAmp's smart trailer solution comes in. It offers seamless integration with third-party sensors and telematics devices, allowing fleet managers to gain full visibility of all powered and non-powered assets.
Trailer and cargo sensors integrated with solar-powered trailer trackers give fleet managers and warehouse personnel the insights they need to reduce waste and cut operating costs.
2. Implement yard management software
Effective yard management poses numerous challenges — limited visibility, inefficient processes, etc. These can all increase costs and decrease productivity if left unchecked.
Implementing a YMS can help overcome these challenges and automate aspects of your operations. For example, some systems offer features like appointment scheduling which can help improve dock utilization and prevent issues like double booking.
Despite 92% of supply chain professionals acknowledging that a YMS would add value to their organization, just 25% are currently using one.
When looking for a yard management solution, look for one that can integrate with your cargo sensors. Data from these devices can feed into a dedicated yard management system via an application programming interface (API).
With this data, yard and warehouse managers have full visibility into the location, health and usage of their trailers so they can find the right trailer, discern whether it's empty, know whether the tires are low or flat, and more.
This trailer data can be incorporated with other fleet management insights such as preventative maintenance, route optimization, and driver behavior information for a more holistic view of all assets.
3. Ensure safety and regulatory compliance
Safety is another critical aspect of yard management.
Trailers might be loaded and ready to go, but are they properly secured? Improperly loaded or unsecured cargo can increase the risk of accidents and lead to safety violations.
Make sure to adhere to all safety and regulatory requirements. Examples include regularly servicing equipment, providing personal protective equipment (PPE), and reporting any incidents that occur in the yard.
Regularly conduct safety audits to identify and address potential hazards. By prioritizing safety compliance, you'll create better and safer working environments.
4. Educate and train personnel
Yard operations can be dangerous if workers aren't following proper safety protocols. To ensure safe operations in the yard or dock areas, it's important to educate and train all personnel on proper procedures.
Make sure to communicate and enforce safety policies across the organization. Safety protocols ensure that personnel know what they can and cannot do while they're on duty.
Taking these measures will help reduce the risk of accidents and prevent liability issues.
5. Track and measure key performance indicators (KPIs)
The only way to improve your yard operations is to track the right metrics.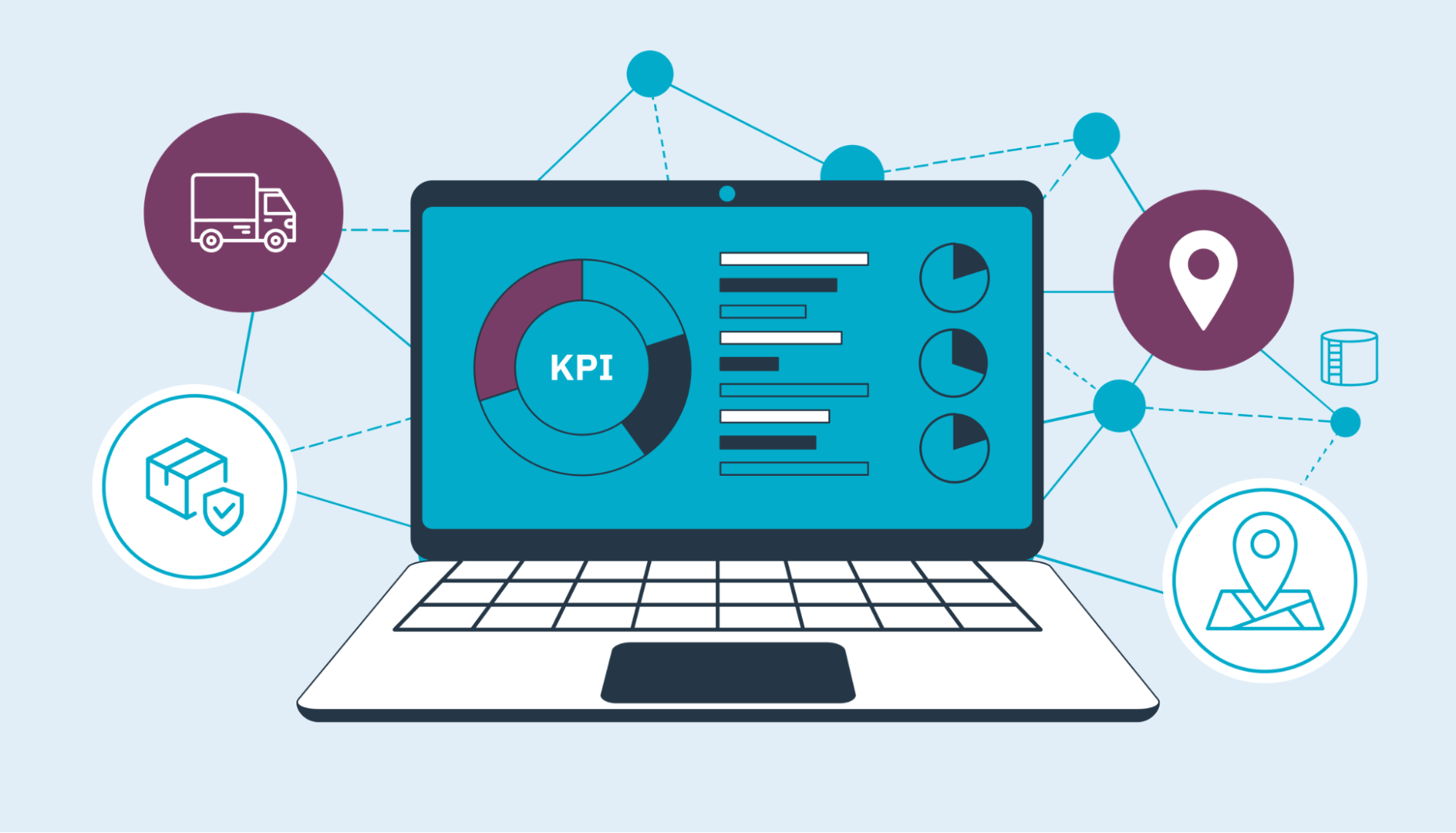 Monitor KPIs like yard capacity utilization, average detention time, and on-time receiving and dispatching rates to get a clearer picture of how your efforts are affecting your operations.
Tracking the right data can also help with demand forecasting. For example, if data shows that certain months are busier than others, you can take steps to ensure you have the right resources to meet the higher demand.
Optimize yard management with CalAmp's smart trailer solution
Over-stressed transportation budgets have transportation and logistics executives scrutinizing the effectiveness of their operations, with a laser focus on yard management.
The pressure to reduce costs and increase efficiency across the supply chain is increasing at an alarming rate. Data from smart trailer technology, with or without a yard management system, can help you optimize yard management, shrink wastage, and increase profitability.
Smart trailer solutions can be purchased as a Software-as-a-Service (SaaS) application, such as the CalAmp Application, or via a Platform-as-a-Service (PaaS), where fleet operators can ingest smart trailer data insights into their yard management system via API or build their own system in a cloud platform such as the CalAmp Telematics Cloud.
Request a demo today to learn more about how CalAmp's smart trailer solution can help you optimize yard management.